Become a Charge Champion
Help bring our electrifying new production to life
Charge will premiere at Warwick Arts Centre in October 2017, exploring themes of energy, using our dance-circus fusion and incredible digital projections.
Contribute to the creation of Charge: invest in a piece of the set or a costume and play a role in an exciting new show. Starting from as little as £10, you can become a Charge Champion and know that the item you bought is playing its part on stage. Every donation will make a real contribution to Motionhouse, helping us to continue making work that inspires, delights and entertains audiences around the world.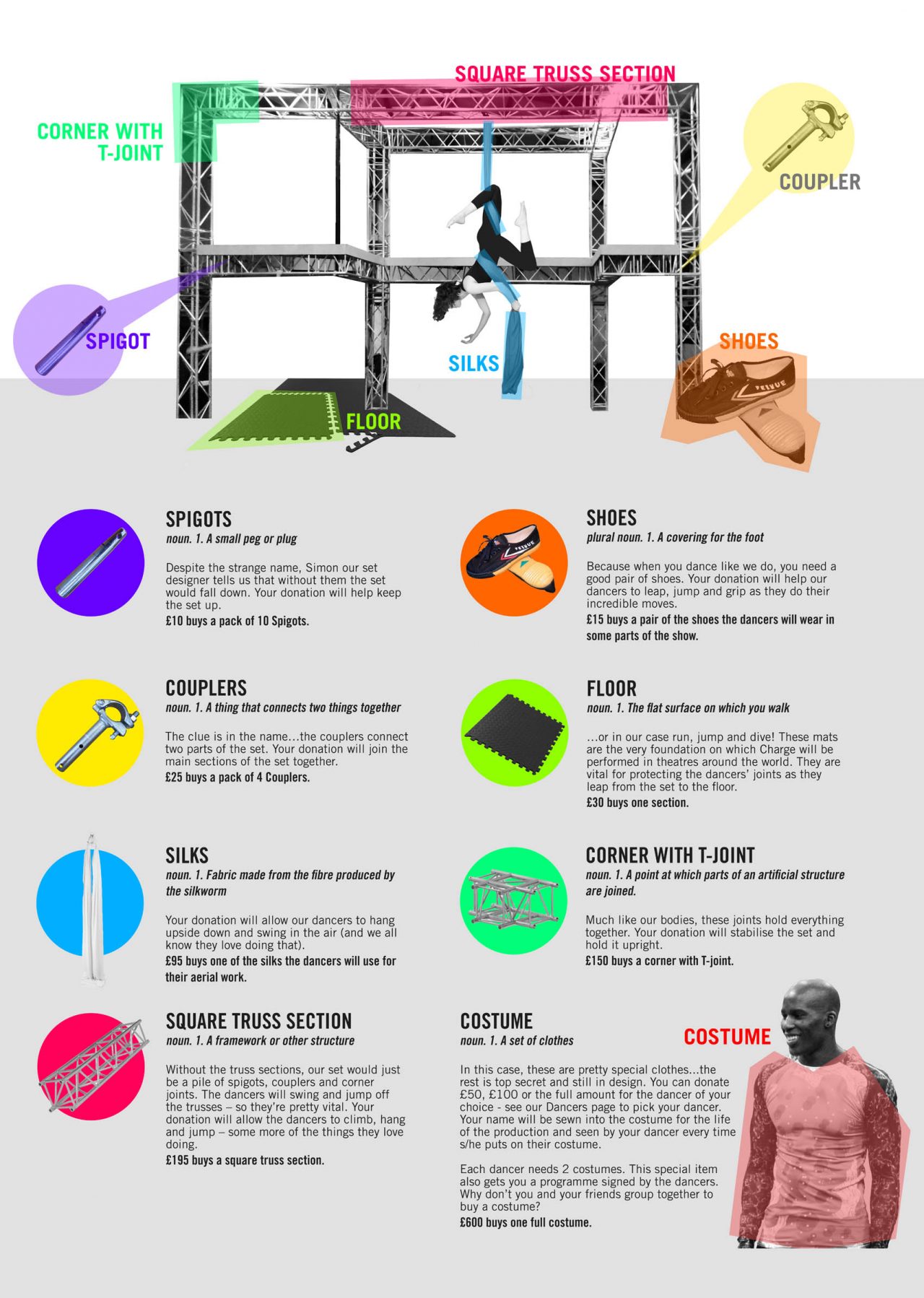 As a thank you, we will:
– Send you a photo of the item you bought with your name on it
– Include your name in the show programme
– List your name on our website with the other Champions
Join the Charge Commissioning Circle
We invite you to join the first ever Commissioning Circle for our extraordinary new production, Charge, which will premiere at Warwick Arts Centre in October 2017.
As a circle member, you will receive unparalleled access to our creation process throughout devising right up until the premiere.
Discover the magic as it unfolds. Meet Artistic Director, Kevin Finnan MBE, chat with the dancers and watch rehearsals. Be the first to hear the commissioned score, to see the set and costume designs and watch the first steps as a new Motionhouse production explodes into life.
Charge will tour the UK from October 2017 and will also  feature an extensive education programme benefitting young people all over the country.
Join the circle today and help bring this cutting-edge new work to life!
– Regular creative updates
– Invitations to rehearsals
– Your name on the show programme for the life of the show
– Backstage tour of the set
– An invitation to attend a technical rehearsal
Donations from £1000 to join the circle.
Questions? Call Jane Bailey on 01926 887052 or email [email protected]