It is with great excitement that we announce the 2017 BLOCK tour!
A show created in collaboration with our good friends at NoFit State, we are incredibly proud of BLOCK and so, with dates in Portugal, France, Germany, Netherlands and the UK, we can't wait to share it with audiences across Europe this summer.
For more information about BLOCK click here.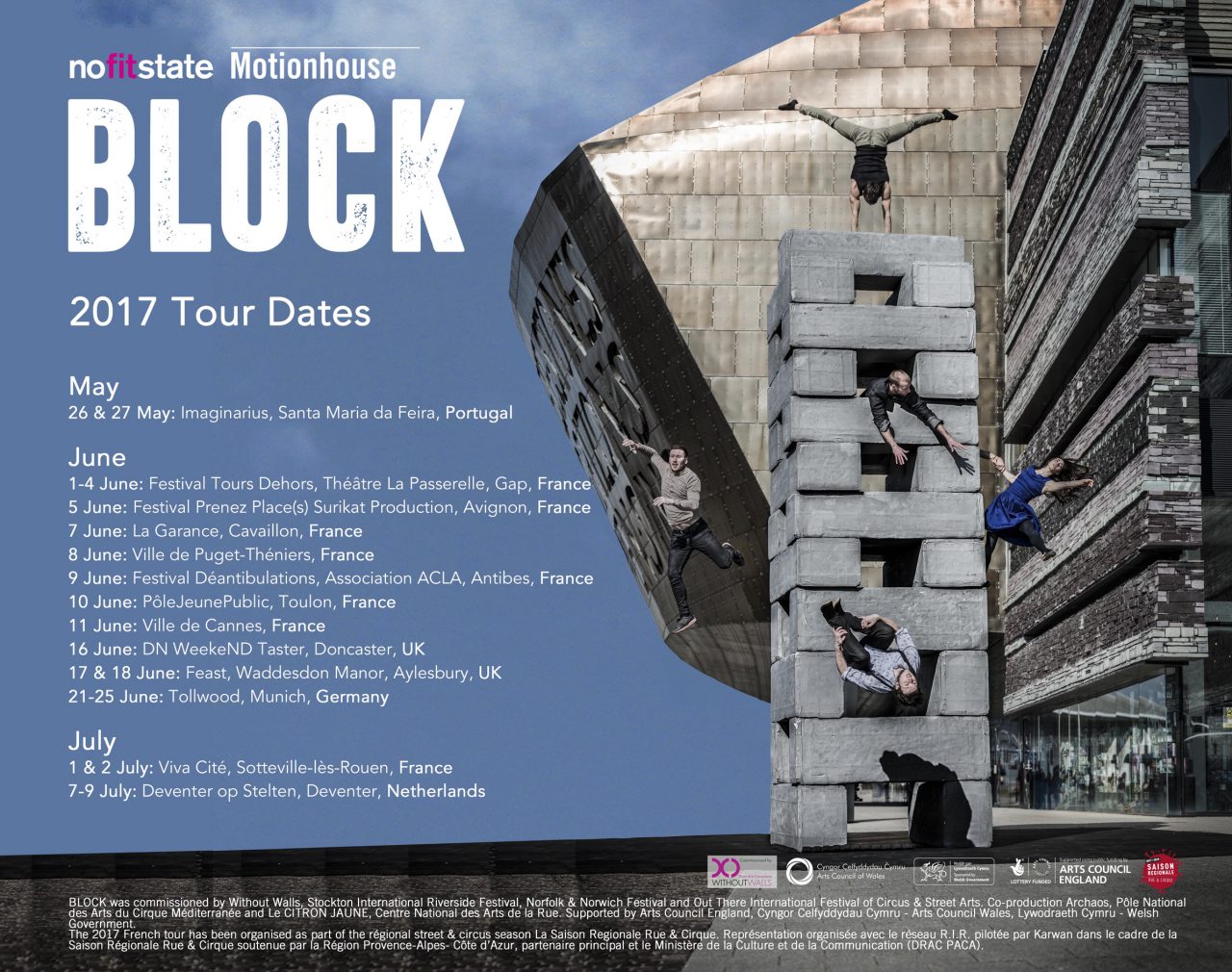 May
26 & 27 May: Imaginarius, Santa Maria da Feira, Portugal   Festival website
June
1-4 June: Festival Tours Dehors, Théâtre La Passerelle, Gap, France Festival website
5 June: Festival Prenez Place(s) Surikat Production, Avignon, France  Festival website
7 June: La Garance, Cavaillon, France  Festival website
8 June: Ville de Puget-Théniers, France  Festival website
9 June: Festival Déantibulations, Association ACLA, Antibes, France  Festival website
10 June: PôleJeunePublic, Toulon, France  Festival website
11 June: Ville de Cannes, France  Festival website
16 June: DN WeekeND Taster, Doncaster, UK  Festival website
17 & 18 June: Feast, Waddesdon Manor, Aylesbury, UK  Festival website
21-25 June: Tollwood, Munich, Germany  Festival website
July 
1 & 2 July: Viva Cité, Sotteville-lès-Rouen, France  Festival website
7-9 July: Deventer op Stelten, Deventer, Netherlands  Festival website
BLOCK was commissioned by Without Walls, Stockton International Riverside Festival, Norfolk & Norwich Festival and Out There International Festival of Circus & Street Arts. Co-production Archaos, Pôle National des Arts du Cirque Méditerranée and Le Citron Jaune, Centre National des Arts de la Rue. Supported by Arts Council England, Cyngor Celfyddydau Cymru – Arts Council Wales, Llywodraeth Cymru – Welsh Government. The 2017 French tour has been organised as part of the régional street & circus season La Saison Regionale Rue & Cirque. Représentation organisée avec le réseau R.I.R. pilotée par Karwan dans le cadre de la Saison Régionale Rue & Cirque soutenue par la Région Provence-Alpes- Côte d'Azur, partenaire principal et le Ministère de la Culture et de la Communication (DRAC PACA).